In the 1950's, Krups literally revolutionized the way people view coffee with the very first electric home coffee grinder ever made.  By 1961, the first Krups coffee maker hit the market and by 1983; they had their first espresso machine available for home use.  Krups has long been a trusted name when it comes to quality kitchen appliances, and their coffee makers are no different.
The Krups KM7000 Pro Grinder and Brewer combines the convenience of grinding fresh coffee beans and brewing fresh coffee all in one machine.  The conical burr grinder efficiently grinds coffee beans into a uniform size particle, which yields a better tasting cup of coffee.  Features of this Krups coffee maker include a pause and serve anti drip valve, a programmable timer that can be set as far as 24 hours in advance, and adjustable controls that enable you to make your perfect cup of coffee.  The Cup setting allows you to decide between a 2, 4, 6, 8, or 10-cup setting.  The Aroma button enables you to make a smaller pot of coffee by reducing the brew time.  Choose how bold your coffee will be by using the Strength button to brew your coffee mild, medium or strong.  There is an override button if you choose to use coffee that is already ground instead of whole beans.  (A gold filter or paper filter can be purchased separately for this purpose.)  The warming plate keeps your glass carafe of coffee warm for up to two hours.  One of the best features of this Krups coffee maker is that it comes with a vegetable-based Duo Action water filter.  The filter frees your coffee of chlorine and lime scale, which means your coffee tastes fantastic.
Read more: DeLonghi BCO430 Combination Pump Espresso and 10-cup Drip Coffee Machine
Krups 229-4G Aroma Control 10-Cup Coffeemaker with Thermal Carafe actually steeps your ground coffee for 2 minutes during the brewing time, which then delivers full flavored coffee to your cup.  The insulated thermal stainless steel carafe will keep your coffee warm for several hours after brewing.  It is easy to make small batches or even a single cup of coffee with this machine since you can control the brewing time with the Aroma Control feature.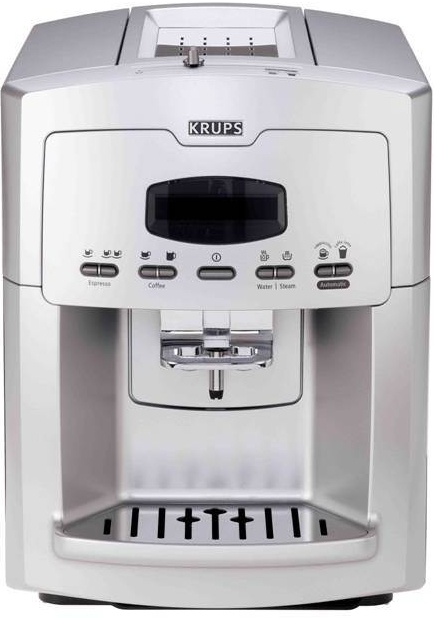 Krups also carries a line of espresso coffee brewers.  The Krups XP9000 is a top-of-the-line model that automatically grinds, tamps, brews and disposes of spent grounds.  There is a central steam nozzle for creating cappuccino and latte favorites, as well as your espresso.  At the push of one button and one slide of a lever, produce perfectly frothed milk and then add your espresso.  You can program the strength of your espresso, the cup size, the water temperature and even the steam time with this Krups coffee maker.  This model contains its own conical-burr coffee bean grinder that can be set to one of four fineness settings.  The large digital display is bright, easy to read and available in five different languages.  Other great features of this Krups espresso maker is a heating element with two thermostats, a removable brewing unit, a removable 88-ounce water tank, an empty bean sensor, a cup-warming plate and an integrated drip tray that will indicate when the water tray requires emptying.
Krups offers several types of coffee makers:  automatic drip machines, specialty machines, dual carafe coffee machines, and coffee and espresso combination machines.  No matter how you drink your coffee, there's probably a Krups coffee maker to meet your tastes.
Read more: Braun Coffee Maker